Intuitive Mobile Field Service Management Software
Boost productivity, streamline operations, and enhance communications with reliable mobile field service software built on Microsoft cloud technology.
Stay
Connected

and Work From Anywhere

To meet today's service delivery and customer experience demands, field service contractors need instant access to critical job and customer information from anywhere. Our cutting-edge mobile field service management software delivers exactly that. Available in both Android and Apple stores, the FIELDBOSS mobile app empowers you to create purchase orders, handle service ticketing, track and manage equipment, materials and time, conduct inspection checklists, intake field requests, access sales assistance, and much more—all from any device with a web browser.
Empower

Your Field Technicians with FIELDBOSS

Revolutionize the way you create, run, and manage your field service operations with the industry-leading FIELDBOSS mobile app. Our user-friendly mobile field service management software allows everyone on your team to seamlessly track equipment and materials, record time tracking data, and stay in control of tasks from anywhere.
Service Tickets
Equipment Tracking
Time Tracking
Purchase Orders
Offline Mode
Sales Recommendations
Service Tickets
Effortlessly manage work orders on your mobile device, capturing crucial details and assigning tickets to designated technicians or teams with ease
Equipment Tracking
Track equipment and materials details including serial numbers and warranties with easily accessible information in one convenient location.
Time Tracking
Automate time sheets, minimize reporting errors, and save valuable time with digital time tracking.
Purchase Orders
Empower technicians with the capability to view purchase orders on work orders, seamlessly generate parts requests from the field, and directly create purchase orders using their handheld devices.
Offline Mode
FIELDBOSS mobile runs in offline mode so users have full access to everything in their application, even if they have no internet or cell phone service.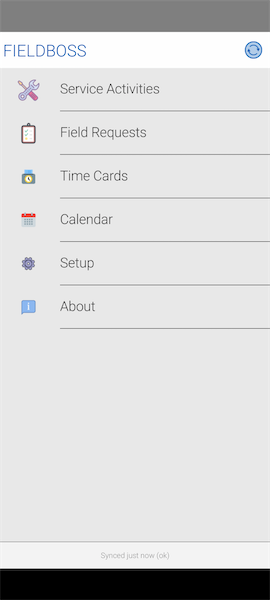 Sales Recommendations
Easily transfer sales recommendations from technicians' phones to new work orders with a simple click, while efficiently organizing, tracking, and managing them electronically.
FIELDBOSS Mobile App Overview
Discover how the FIELDBOSS mobile app can help you quickly manage service activities, field requests, and timecards from anywhere.
Watch Now
Unlock Superior Performance with FIELDBOSS Mobile: Fueled by Resco
FIELDBOSS is proud to partner with Resco to deliver our industry-leading field service mobile app. Powered by Resco, the FIELDBOSS mobile app seamlessly integrates with Microsoft Dynamics 365 Business Central and is highly configurable to our HVAC, elevator, and specialty field service client needs.
In recognition of our commitment to the Resco mobile platform and exceptional customer satisfaction, FIELDBOSS was recently awarded Resco Global Partner of the Year. Read the full press release here.
Start Every Job with Safety
To assess and identify workplace hazards, the FIELDBOSS mobile app has many health and safety checklists that methodically ensure all procedures are clear and consistent. Field service staff can conveniently access and complete pre-built health and safety checklists for every job including job hazard assessment, personal protection checklists, and more.
Simplify the Complexities of Field Requests
Make things easier for your staff with mobile field requests. In the FIELDBOSS mobile app, field requests records can be generated by technicians in real time that queue up action items for office staff, such as quote request or parts needed. This allows you to turn around a quote minutes after the technician was on site.