Scalable Specialty Field Service Management Software
Boost efficiency and drive business growth with specialty contractor management software designed to mitigate risk, improve daily operations, and increase profitability. Become a Service
Leader
Stay ahead of the competition with FIELDBOSS, the ultimate specialty field service management software. Built on the trusted Microsoft Dynamics CRM and 365 Business Central cloud platforms, FIELDBOSS leverages extensive industry knowledge and innovative, scalable technology to streamline, automate, and provide superior visibility on all the critical operations of a specialty contracting business.
Custom

Specialty Contractor Management Software That Drives Results

Automate tasks, optimize resources, and modernize your workplace with flexible, all-in-one specialty field service management software trusted by thousands of water treatment, plumbing, and electrical contractor users around the world. FIELDBOSS includes both standard and advanced functionality, reporting, and requirements specific to your industry from day one. Industry-specific features for specialty contractors include:
Equipment-Specific Data and History
Maintenence Checklists for Custom Equipment
Maintenance Contract Management
Equipment-Specific Data and History
Give your technicians the information to identify and solve issues by easily accessing equipment repair and maintenance history, including parts used on that equipment and a complete audit trail or service history and previous repairs.
Maintenence Checklists for Custom Equipment
FIELDBOSS includes pre-defined maintenance checklists per style of equipment and visit frequency so technicians can perform better quality service. Checklists are mobile-accessible and generate reports that can easily be shared with customers.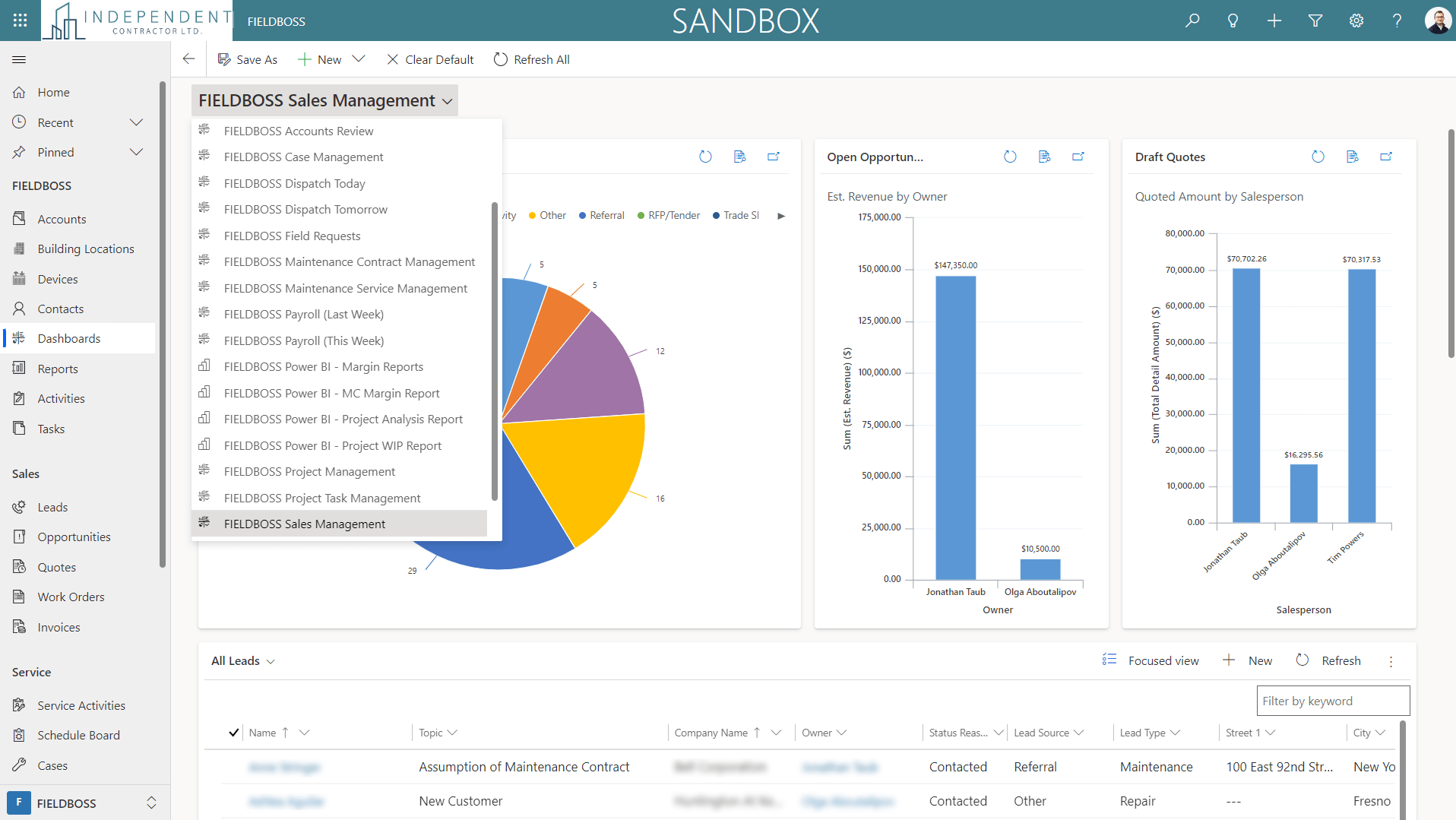 Maintenance Contract Management
Never miss scheduled maintenance! Automated maintenance processes in FIELDBOSS help you efficiently manage contract management, including scheduling, work order generation, billing, inspections, and reporting.
Improve

Your Day-to-Day Operations
With faster job productivity, more efficient workflows, and better communication, FIELDBOSS is designed to impact your entire field service operations. Customized for the specialty contracting market, FIELDBOSS includes pre-built reports and dashboards, margin reporting, Power BI integration, and a resourceful customer portal for faster insight and process improvement.
Client Spotlight:
United Drilling
Learn how FIELDBOSS has helped 'The Drilling Experts' in Pennsylvania streamline their operations and overcome an unexpected event.
Read Now
It's very empowering when you have the right tools. Not just the right tool for now, but the right tool for the future. We know FIELDBOSS will be around 10 years from now. We are looking at our business in full colour now.
"Jonathan and his team continually work to provide end-to-end value through a collaborative effort in understanding your business' processes by providing effective and efficient solutions."
"PERFECT FOR OUR BUSINESS"
"We've worked with the team and the FIELDBOSS platform for 4+ years now. The curated CRM platform is tailored to provide a solution for service-based trades in a variety of industries. Jonathan and his team continually work to provide end-to-end value through a collaborative effort in understanding your business' processes by providing effective and efficient solutions."
Talk to a Field Service Industry Expert