Centralized Elevator Contractor Management Software
Become more efficient while streamlining your workload with an all-in-one business management system built specifically for elevator service companies. Simplify

Operations While Maximizing ROI

Modernize daily tasks with innovative business management software that enables complete visibility into every aspect of elevator service performance. FIELDBOSS unifies finance, field service, and business management software solutions so elevator contractor organizations can leverage growth, and minimize technical overhead – while never needing to be replaced.
Reliable

Elevator Software That Will Never Be Obsolete

Boost efficiency and drive business growth with scalable, configurable software designed to mitigate risk, improve daily operations, and increase profitability. Built on and powered by proven Microsoft cloud technology, elevator contractor companies can leverage FIELDBOSS to eliminate the burden, risks, and cost of maintaining multiple disconnected systems.
Elevator Maintenance Checklist
Safety Test and Violation Management
Elevator-Specific Data and History
Elevator Maintenance Checklist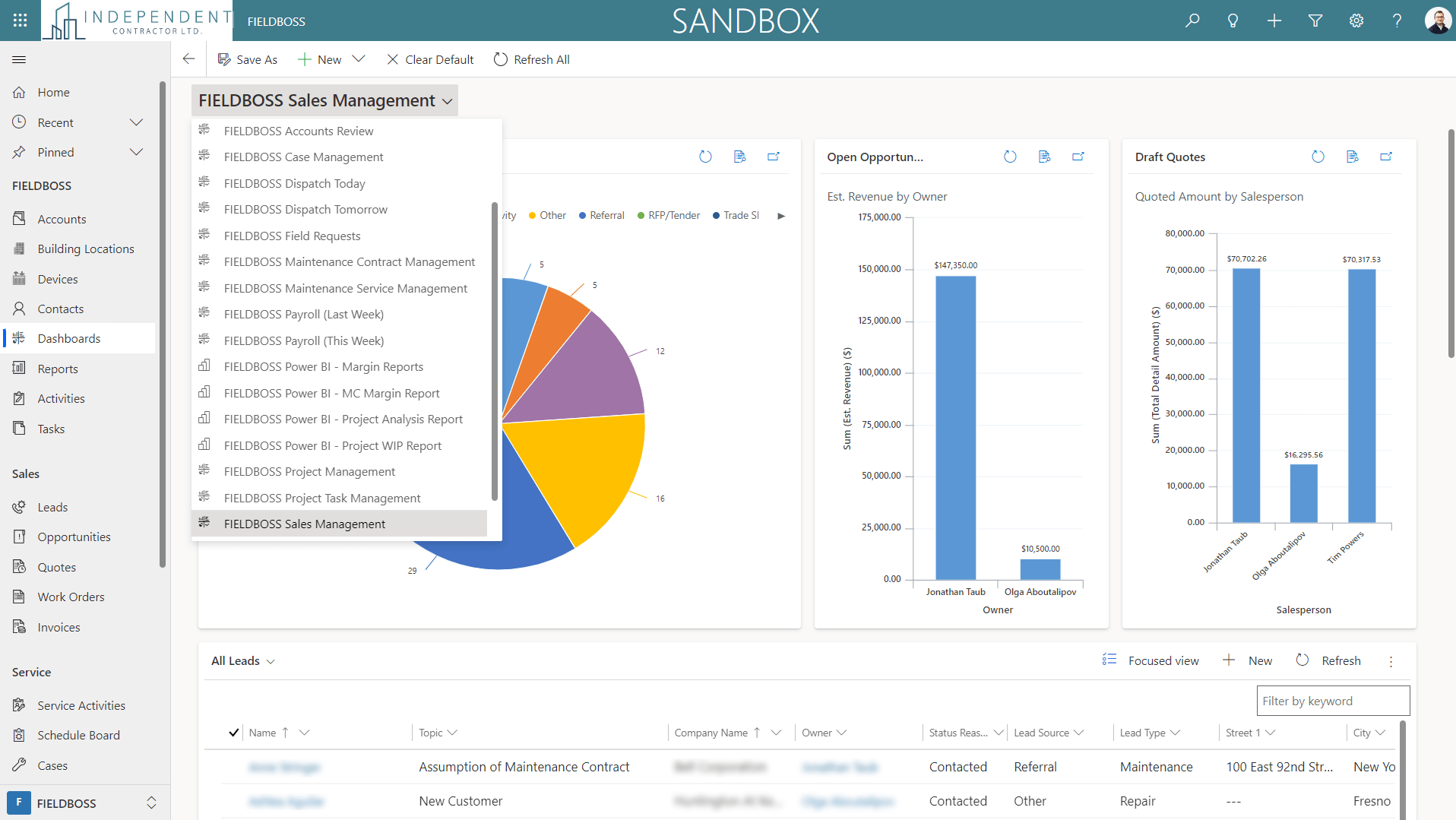 Safety Test and Violation Management
Ensure compliance by automating data capture, workflow, and reporting. Manage periodic elevator testing requirements and violations from start to clearance to avoid costly fines and penalties.
Elevator-Specific Data and History
Effortlessly track and access a comprehensive work history along with detailed information on elevator-specific parts, including machinery, hoistway, doors, cabs, fixtures, and more.
Access Data From Anywhere with
FIELDBOSS
Schedule jobs, communicate with customers, and boost efficiency on the go. Our mobile features empower you to create purchase orders, handle service ticketing, track and manage equipment, materials and time, conduct inspection checklists, intake field requests, access sales assistance, and much more—all from any device with a web browser.
Client Spotlight:
Selco Elevators
Learn how the largest independent elevator manufacturer in Toronto increased their workflow and performance with FIELDBOSS.
Read Now
"FIELDBOSS IS GOING TO GIVE US THE OPPORTUNITY TO GROW"
"Mundane tasks that used to take days, I can now perform in only an hour. Billing Automation is probably the biggest time saver for us. The ability to see a clearer picture of job costing and where we are profitable will allow us to make the changes we need to be successful. This allows us to be more organized, giving us the opportunity to focus on other projects, rather than pushing paper around the office all day."
It's very empowering when you have the right tools. Not just the right tool for now, but the right tool for the future. We know FIELDBOSS will be around 10 years from now. We are looking at our business in full colour now.
"PERFECT FOR OUR BUSINESS"
"We've worked with the team and the FIELDBOSS platform for 4+ years now. The curated CRM platform is tailored to provide a solution for service-based trades in a variety of industries. Jonathan and his team continually work to provide end-to-end value through a collaborative effort in understanding your business' processes by providing effective and efficient solutions."
Talk to an Elevator Industry Expert